Tips for Maintaining an Air Conditioner
Contents
Before you start…
Tip 1: Clean the air conditioner filters
Tip 2: Clean the indoor unit of the air conditioner
Tip 3: Clean the outdoor unit
Tip 4: Sign a maintenance contract with a professional
Very popular during hot weather, the air conditioner must be cleaned regularly. Indeed, a poorly maintained air conditioner can lose much of its efficiency. Breakdowns can also occur.
Moreover, the apparatuses functioning with refrigerant must be controlled once per annum by a professional in particular to check the absence of refrigerant leaks.
Maintaining an air conditioner is relatively easy but requires attention to detail and a few precautions to avoid damaging the system or the unit.
Maintenance contracts, including an annual inspection by the installer, also help keep the air conditioner in top condition and prevent breakdowns.
Here are some tips for maintaining an air conditioner.
Before you start…
Clean the air conditioner in the spring before turning it on again in the summer.
To work safely and avoid accidents, unplug your unit or turn it off at the electric meter.
Do not use solvents.
1. Clean the air conditioner filters
Before turning on your air conditioner, be sure to maintain the air filters that trap dust and pollen:
Take the filters out of their slots.
Remove the dust from the filters with a vacuum cleaner.
Clean the filters thoroughly with a cloth and soapy water.
Let them dry before replacing them.
If the air filters are not in good condition, replace them. The proper operation of your air conditioner depends in part on them.
Perform this cleaning every two weeks during the air conditioner's operating season.
Also, replace the activated carbon filter at least once a year (twice if used intensively) to prevent bad odors.
2. Clean the indoor unit of the air conditioner
Use a slightly damp cloth or sponge to remove dust from the unit's body, pipes, etc.
Also, remove dust from the air outlets with a damp cloth.
Wipe everything with a dry cloth.
Please use a special air conditioner cleaner if the shell is stained or very dirty. Common cleaning products may damage it.
3. Clean the outdoor unit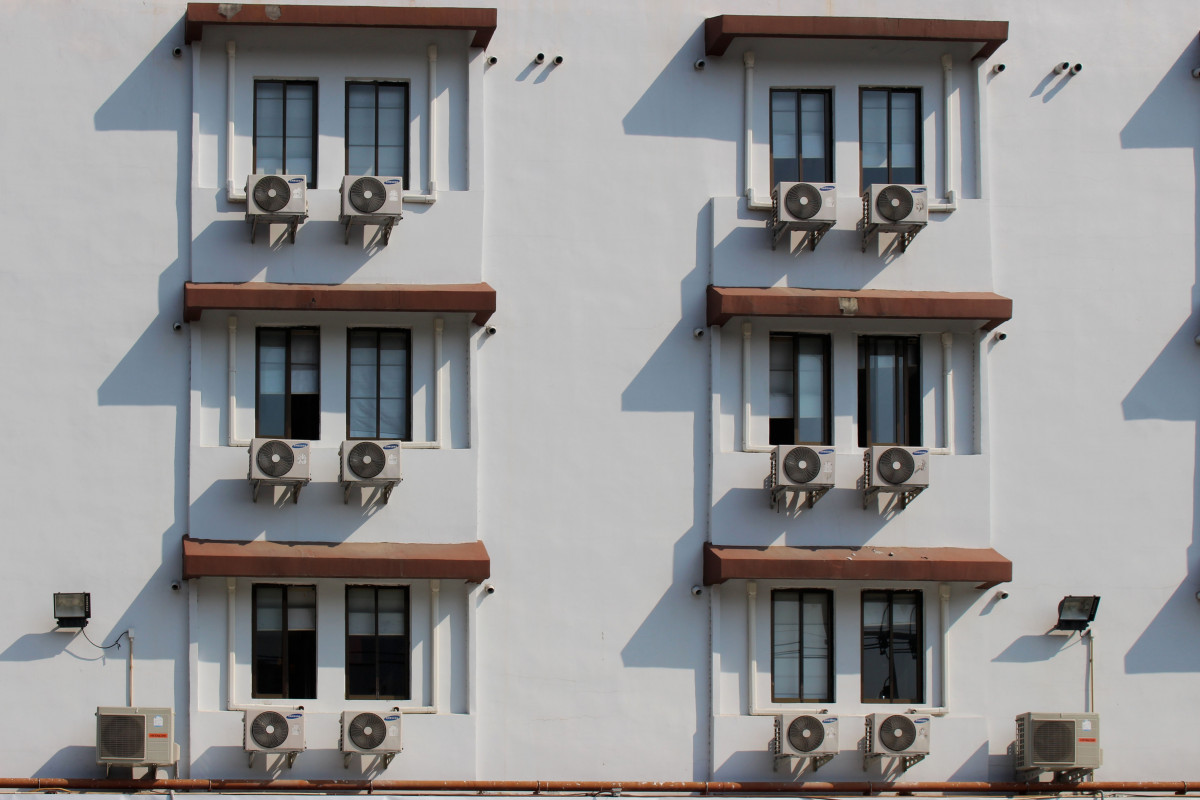 The outside vents of an air conditioner may be blocked by leaves or other debris. Check them regularly and clear any obstructions that would impede airflow.
Empty and clean the condensate pan.
Check that the electrical wiring is in good condition. Do not hesitate to call a professional in case of defective material or the slightest doubt.
Finally, clean the body of the outdoor unit with a slightly damp sponge.
4. Take out a maintenance contract with a professional
It is advisable to sign a maintenance contract with a professional to avoid refrigerant leaks and breakdowns, often costly, of your air conditioner. It also helps to improve its efficiency and ensure good air quality.
This contract ensures an annual inspection, including the verification and complete cleaning of the unit.
Please note: even if you do not have a contract, the law requires you to inspect your entire system once every 5 years.
Equipment needed to maintain an air conditioner
Vacuum cleaner
Cloth
Sponge
Hope this post has provided you with the information you were looking for. Remember to jot down a few words in the comments below.
Some more interesting reading:
– What Does Installing a Gas Heater Involve?
– Floor Standing or Wall Mounted Heater?
– When Should I Replace My Heater?
– When Do You Know It Is Time to Change Your Heater?
– 4 Important Things to Know Before Installing a Water Heater;