Summary
1. Horizontal water heaters: less efficient than vertical ones
2. Rules for installing a storage-tank water heater
3. Installation standards for horizontal electric water heaters
4. Installation of the horizontal gas water heater
5. Horizontal water heater mounting: depending on the support
For your domestic hot water supply, you might be hesitating between a vertical water heater, a horizontal water heater, or a mini water heater? The choice of a flat or vertical system on a tripod will depend on its storage capacity, the space available, and its location, as strict standards exist in this area.
1. Horizontal water heaters: less efficient than vertical ones
Initially, the horizontal hot water tank is identical to that of the vertical water heater. The losses and the maintenance of hot water temperature are similar regardless of the model.
However, two aspects differentiate them:
The horizontal water heater is less efficient than the vertical water heater in terms of water temperature maintenance. For identical domestic hot water needs, a horizontal storage water heater requires 50 liters more than a vertical one because of its operation mode.
The horizontal water heater is not ideal if you have little space but is the right solution if you don't have enough ceiling height for a vertical water heater. Also, a high ceiling height allows you to place it high and free up space underneath.
2. Rules for installing a storage water heater
You must place your horizontal (or vertical) water heater in a heated space to reduce:
excess electricity or gas consumption, depending on the energy used.
If you cannot install your storage water heater in a heated space, there are a few rules to follow:
thermal insulation of the pipes is imperative;
maximum pipe length of 8 meters between the cumulus and the water drawing points;
if this is not the case, plan another system, the simplest being an instantaneous production water heater.
You will choose between a horizontal and a vertical hot water tank according to these installation rules and your home configuration.
4. Installation standards for horizontal electric water heaters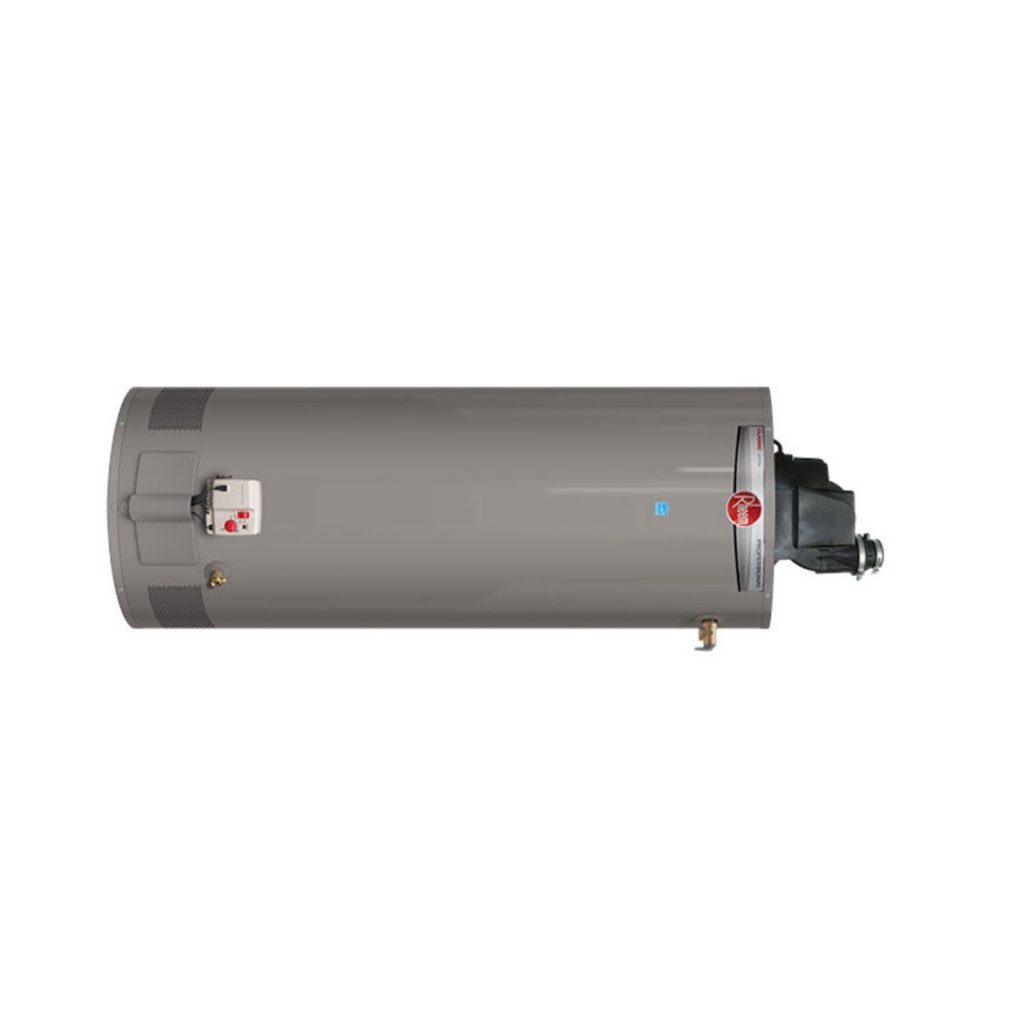 The installation of an electric water heater requires compliance with electrical standards, particularly IEC/NEC, concerning low-voltage electrical installations. 
Tip: As electricity can cause hazardous danger, it is better to take advice from a professional electrician.
Caution: for the horizontal water heater, the pipes must be made of conductive material and the water heater protected by a 30 mA differential.
4.1 Installation of the horizontal gas water heater
The gas water heater must evacuate the burnt gases: You can connect to a flue pipe at the chimney outlet or the suction cup outlet. Apart from this obligation, it is recommended to follow the manufacturer's warnings regarding room size and ventilation to avoid carbon monoxide poisoning risk.
5. Horizontal mounting of the water heater: depending on the support
The cumulus clouds have a direction of installation; it is imperative to follow it. The installation direction depends on the type of feeding: lateral to the right or left or below as specified at the purchase time.
5.1 Considering a wall installation
The installation of a horizontal hot water tank is mostly done on the wall and with mounting brackets.
The fixing method must take into account the weight of the water heater under load.
To make your installation as safe as possible, you must use the appropriate materials for your support.
Here are the different types of horizontal water heater mounting according to the type of support and the capacity of your hot water tank:
Horizontal water heater: installation
 

Full walls *

Walls in hollow materials **

Partitions ***

Thin walls ****

Types of fixing

4 sealing bolts Ø10 mm.

Anchoring with mortar or chemical seal > 50 L.

The metal counter plate holding 2 bolts through the wall.

The metal counter plate holding 2 bolts through the wall.

Water heater capacity (in liters)

15, 30, 50 L, and above

15, 30, 50 L

15, 30, 50 L, and above

15 L
* 20 cm minimum thickness / ** Alveolar 20 cm minimum thickness
*** From 15 to 20 cm thick / **** Plaster tiles
5.2 Considering a ceiling installation
Depending on your room's configuration, you may choose to mount your horizontal water heater on the ceiling. Of course, here too, you must make the installation as safe as possible. There are straps and brackets available for ceiling installation.
Please note: calling in professional guarantees you an installation in complete safety and compliance with standards.