Summary
1. Mobile electric radiator
2. Wall radiators
3. Mixed radiators: wall or portable radiators
4. How to choose your electric radiator?
5. Electric radiators: comparison and prices
Electric radiators can be divided into eight models with different technologies, which we can classify into three categories. Each electric radiator has its performance, capacity, and therefore its price. Here is a comparison of the features of electric radiators to help you make your choice.
1. Mobile electric radiator
The mobile electric radiator can be equipped with casters; it can be easily moved from one room to another according to the seasons, the use of the room, or your mood:
blower radiator and "ceramic blower";
2. Wall radiators
A wall-mounted (i.e., fixed) electric radiator is intended to be a main source of heat. Depending on the room and your heating habits, you will need to determine the number and capacity of wall radiators to be installed.
A fixed electric radiator is generally easy to install and is often more powerful than a mobile radiator. The different types of fixed electric radiators are:
the inertia radiator which heats by radiation;
the soft heat radiator with dry inertia or oil;
the storage heater with a high heat storage capacity.
3. Mixed radiators: wall-mounted or mobile
These types of radiators are available as fixed (wall-mounted) or mobile radiators. They are the most widespread, their power range is wide:
convector radiator with resistance, the oldest but also the most energy-consuming;
infrared by infrared radiation;
halogen with halogen infrared lamp.
4. How to choose your electric radiator?
Before you start buying an electric radiator, you need to answer several questions:
Do you need to renew all your radiators or equip a new house?
What are your heating habits?
Do you need remote programming?
Is buying a designer electric radiator vital to you?
The answers to these questions should enable you to make the first price among the different electric radiators. If you still have doubts, don't hesitate to contact a professional.
5. Electric radiators: comparison and prices
Here is a summary of the main characteristics of the different electric radiators and their prices. On the following pages, you will find more information about each of them.
– Mobile radiators
The ceramic fan heater heats up immediately but locally. Besides, it is slightly noisy. It has the advantage of being small, light, and mobile. Its price starts at $15.
The oil-bath heater heats permanently and evenly. It is quite heavy, but its wheels make it very easy to move. It costs between $40 and $100.
– Models of the wall or mobile radiators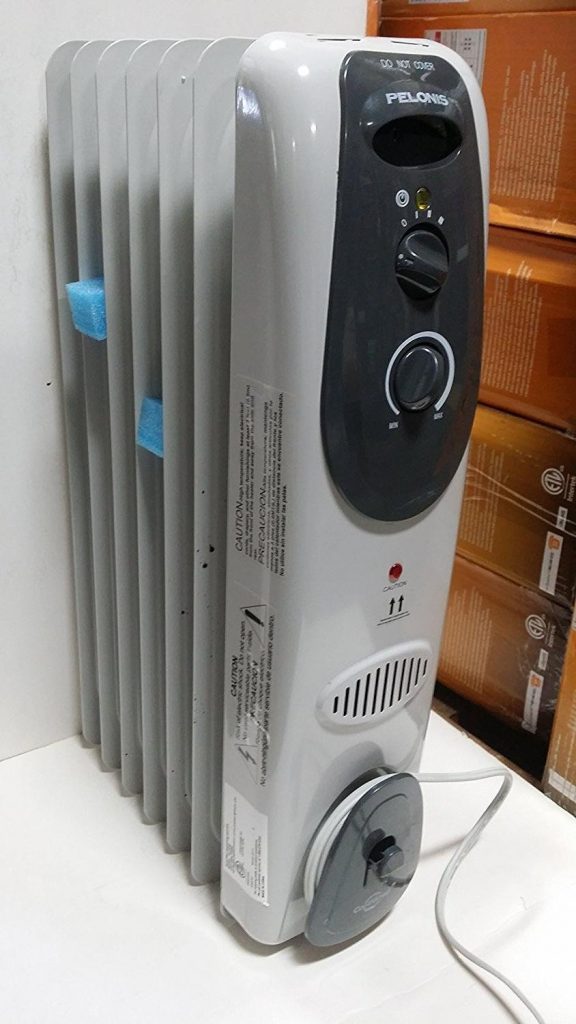 The radiant radiators heat homogeneously; it is their paramount quality. There are many different models, ranging from $100 to $1,000.
Halogen radiators heat quickly and evenly, but they are only suitable for small spaces. Their price range is between $30 and $300.
Infrared radiators heat very quickly and are ideal for rooms with high ceilings. You will find them between $250 and $1,000.
Please note: for all these types of radiators, there are all shapes and sizes available. You will even find some attractive designs.
– Fixed wall radiators
Inertia heaters continue to heat up even after they are turned off. They provide long-lasting, gentle heat. Their design is relatively standard and cost between $400 and $900.
Gentle heat radiators also produce long-lasting and even heat and have a relatively classic design. They are, however, a little cheaper to buy: between $300 and $800.
Finally, storage heaters can radiate heat even several hours after having been switched off. This heating capacity has an impact on their aesthetics: they are bulky and heavy. Although they may seem expensive to buy (between $750 and $2,000), they consume very little energy.
Contact professionals directly to obtain your personalized estimate and remember to share your experience below.
You can read more on heating and cooling here:
Heating Imbalance: Apartments Too Hot and Too Cold!