Summary
– Focus on the electrical standards for the realization of bleedings
– Step 1: Locate the outlet locations
– Step 2: Draw the bleed
– Step 3: Case 1: If you dig a short cut in plaster
– Step 3: Case 2: If you are digging a long bleed or any bleed in a hard wall
– Step 4: Thread drivers into their sheaths
– Step 5: Put the sheath in place
– Step 6: Prepare the plaster or coating
– Step 7: Plug the bleed
– Step 8: Prepare the finish
A recessed power line runs through a cut-out in the wall. It allows the sheath that protects the electrical conductors to be inserted. As it is covered with plaster, the whole unit then becomes invisible.
Important: Cuttings are allowed in partitions and in load-bearing brick or cinder block walls. However, they are prohibited in load-bearing concrete walls.
The means to be used depending on the nature of the materials and the length of the future cut:
– for short bleeding (less than 2 m) in plaster: brick chisel, flat chisel, and hammer, plus possibly a grinder and diamond disc;
– for a groove in bricks or blocks or a groove of more than 2 m in plaster: grooving machine and vacuum cleaner.
Focus on the electrical standards for the realization of cuttings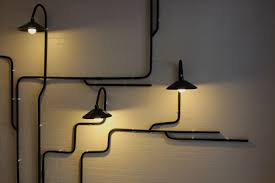 A certain number of regulatory requirements must be respected in the execution of bleeding in order not to weaken the walls:
– The grooves must be horizontal or vertical, never diagonal.
– Vertical grooves must be:
◦ have a maximum height of 1.30 m from the ground;
◦ be at least 1.60 m apart;
◦ be made more than 20 cm from the corner of a wall.
– Cut-outs from the ceiling must be a maximum of 80 cm long or one-third of the ceiling height.
– Horizontal cut-outs must measure a maximum of 50 cm on either side of a wall corner.
Good to know: the ducts to be recessed are corrugated sleeves type ICA-3321 (ICA: corrugated bendable insulation). In the pre-wired version, they contain several conductors of the same cross-section (3 × 1.5 mm2 or 3 × 2.5 mm2) or of different cross-sections (1 × 1.5 mm2 and 3 × 2.5 mm2).
If your project cannot support these standards, you can always opt for hollow trunking or baseboards to pull your power lines.
Here is how to embed an electrical line in a cut.
Materials needed to embed a power line
| | |
| --- | --- |
| Plumb bob | About $5. |
| Bubble level | Starting from $4. |
| Aluminum ruler 2 m | About $15. |
| Paper pencil | $0,50. |
| Tarpaulin | Starting at $8. |
| Flat chisel | Starting from $5. |
| Massette | Starting from $5. |
| Spatula | Starting from $1. |
| Electrician's knife | Starting at $8. |
| Waterproof adhesive tape | About $6. |
| Hammer | Starting from $4. |
| Sponge | $1 approx. |
| Plaster of filling | From $3 per kg |
| Mason's trowel | Starting from $4. |
| Sanding block | $6 approx. |
| Percussion drill | Starting at $30. |
| Hole Saw | From $30 (without the drill) |
Step 1: Locate the socket locations
Tip: Making bleedings always releases dust, especially if you use a machine that is not connected to a vacuum cleaner… So clear your room of all its furniture (or cover it with tarpaulins) and tarp your floor before starting your work.
– Using one of the back boxes, mark on the wall the locations corresponding to the electrical outlets.
– Drill the box slots with a hole saw (Ø 68 for Ø 60 boxes) mounted on a drill.
– Then break the fall with an old screwdriver (plaster) or a flat chisel and a sledgehammer (bricks, cinder blocks).
Note: a plug should be placed more than 5 cm from the finished floor (regulatory requirement). In practice, it is better to count 15 cm because of the baseboards.
Step 2: Draw the bleed
The bleed is first materialized by its median axis (which passes through the center of the cans): trace it with an aluminum ruler surmounted by a spirit level or with a construction site laser level.
Then draw 2 parallel lines with the tracing line, on either side of the axis to delimit the bleed. Total width: 3 to 4 cm, depending on the diameter of the sheath.
This post will now continue in part 2 in our next publication this week. Stay posted and remember to leave your comments below.