Constraints for the Installation of a Reversible Air-Conditioning System
The installation constraints of a reversible air-conditioning system are essentially linked to the type of device concerned. Some cannot do without the services of a qualified professional, while others are easily installed.
There are on the market efficient air conditioners ready to install, requiring some basic masonry work (through holes, dowel fixings) and a little common sense.
Good to know: the success of such an operation is, however, conditioned by the respect of a few unavoidable rules.
Reversible air-conditioning installation: the building's structure
Installations integrated into the building shell are systems to be implemented by highly qualified professionals. They must be planned prior to construction or require heavy structural work during a renovation.
These systems themselves have two main components, sometimes handled by different specialists:
– Refrigeration and heating production units;
– The electrical distribution and diffusion networks.
Refrigeration and heating production units
These units, monobloc or hybrid, charge the refrigerant with energy. This includes the installation of the following:
– Air-to-air heat pump;
– Air-to-water heat pump;
– Ground-source heat pump;
– Ground-source heat pump on horizontal collectors buried at shallow depths;
– Ground-source heat pump on vertical collectors (wells up to 100 m deep);
– Coupled boilers (all energies);
– Solar panels.
Distribution and diffusion networks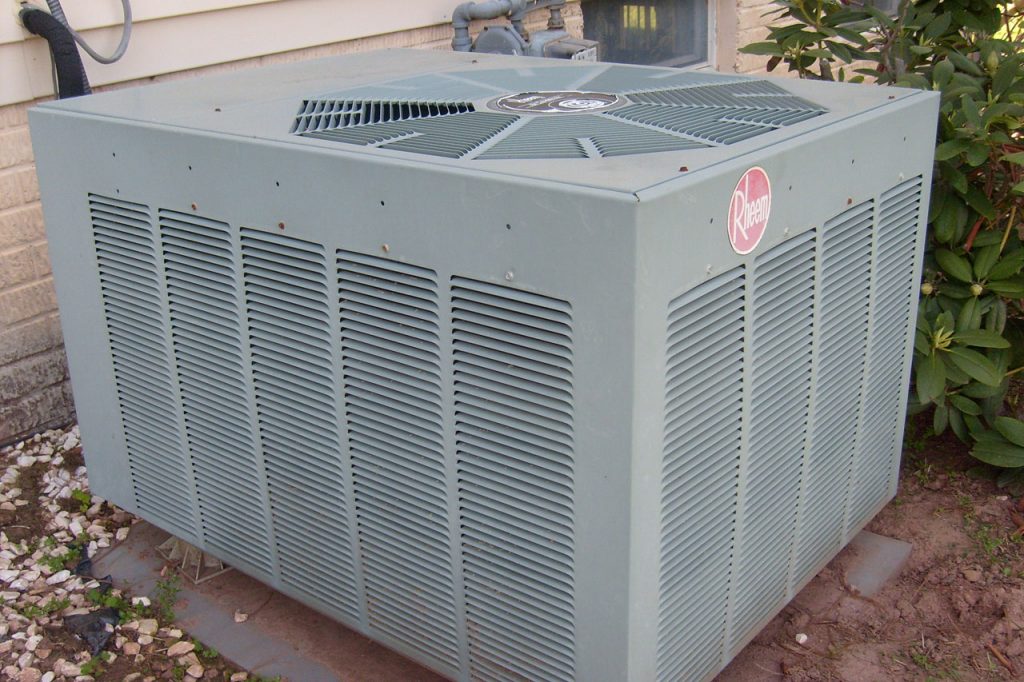 This is the network distributing the cold (or hot) fluids and the transmitters located in the rooms to be air-conditioned to which they are connected:
– Floor heating/cooling systems;
– Heating/cooling walls;
– Heating/cooling ceilings;
– Air networks, plenums, supply air grilles;
– Cassette, console, and various emitters.
Reversible air-conditioning installation: the attached installations
This group includes all equipment designed to equip existing premises. Here again, there are 2 levels of assembly difficulty:
– Mobile and movable devices;
– Fixed, monobloc, or separate units.
Mobile equipment
Monobloc or in 2 separate units, mobile air conditioners do not require authorization or installation. Plugged in, the unit is functional!
However, please note the sometimes restrictive features of these units:
– On mobile units: the large-diameter (15 to 20 cm) flexible exhaust duct must be placed in a window opening or fixed to a window lead-through;
– On mobile units:
◦ It is essential, but sometimes difficult, to hang the outdoor unit safely on a window sill;
◦ The connecting cord between the units (Ø 30 to 40 mm) must pass through the open window.
Fixed units, monoblock, or separate units
Fixed air conditioners are also available in monobloc or 2-unit versions.
Fixed monobloc air conditioners are technically designed as mobile monoblocs. However, they have better performance and lower energy consumption. This is due to the compressor's dual-flow ventilation system, which eliminates the ingress of unwanted air into the air-conditioned room.
Split stationary air conditioners are the most common type of reversible air conditioner. They are quieter, more efficient, more comfortable, and more economical.
The cooling unit, which must necessarily be placed outside, imposes some precautions:
– A prior declaration of work to be filed at the town hall if it is fixed on a facade.
– An authorization from the general meeting of co-owners is necessary for apartment buildings.
– A written authorization from the owner is necessary for tenants.
– The positioning must avoid noise, vibrations, and hot air intrusion for the neighbors.
– Although some so-called "ready-to-install" units are delivered with the freon pressurized system and the junction tubes equipped with quick connectors, the intervention of a professional is widely recommended.
Good to know: only this specialist is not only able to guarantee the right power by a preliminary heat balance but also maintenance, troubleshooting, and application of the warranty. These are all essential conditions for comfortable, economical, and long-lasting operation.